Based on a typical use of household electrical appliances, taking account of actual service time of each electrical appliance, the estimated daily household power consumption is 9.58kWh. In the meanwhile, the shift to more energy-saving applicances and energy storage system to reserve capacity optimizing power deployment lower the power consumption.

According to report on residential electricity consumption recently released by Umweltbundesamt, known as BMU, annual electricity consumption for a family of four with electric water heaters theoretically consumes up to 8,000 kWh of electricity per year. Every year each German spends an average of about €400 EUR on electricity.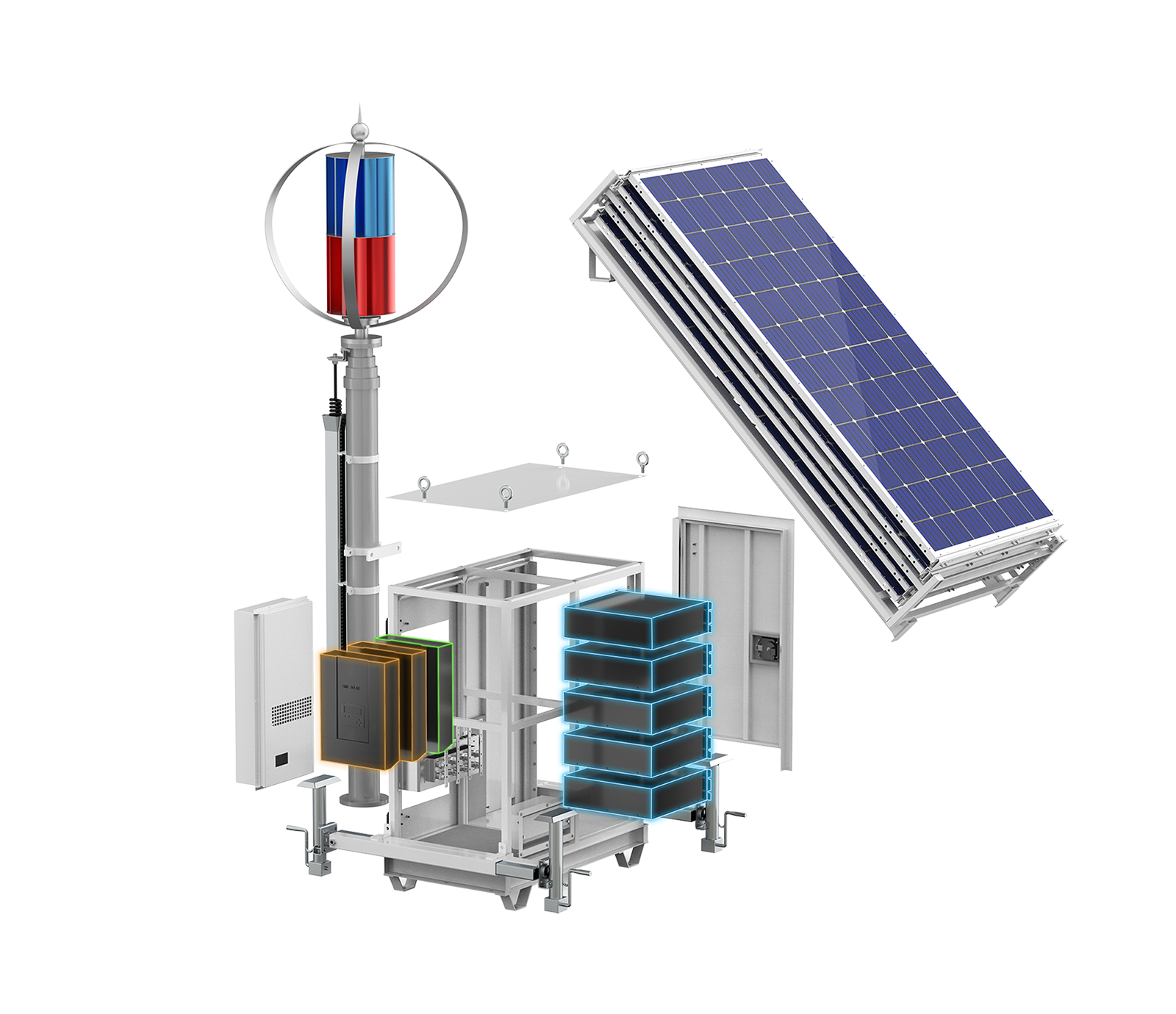 MPMC has been always seeking for self-sufficient solutions to help realizing energy independence, and more importantly, creating value for customers worldwide. MPMC WSB Series of hybrid power system provides reliable, durable and renewable mobile solutions from integrating solar power, wind power and battery energy storage system.
Though no single form of power generation is optimal in all situations, comparing the advantanges and challenges of main grid, rooftop PV system and MPMC WSB Series of hybrid power system, the chart below shows a good representation of residents power solution trends.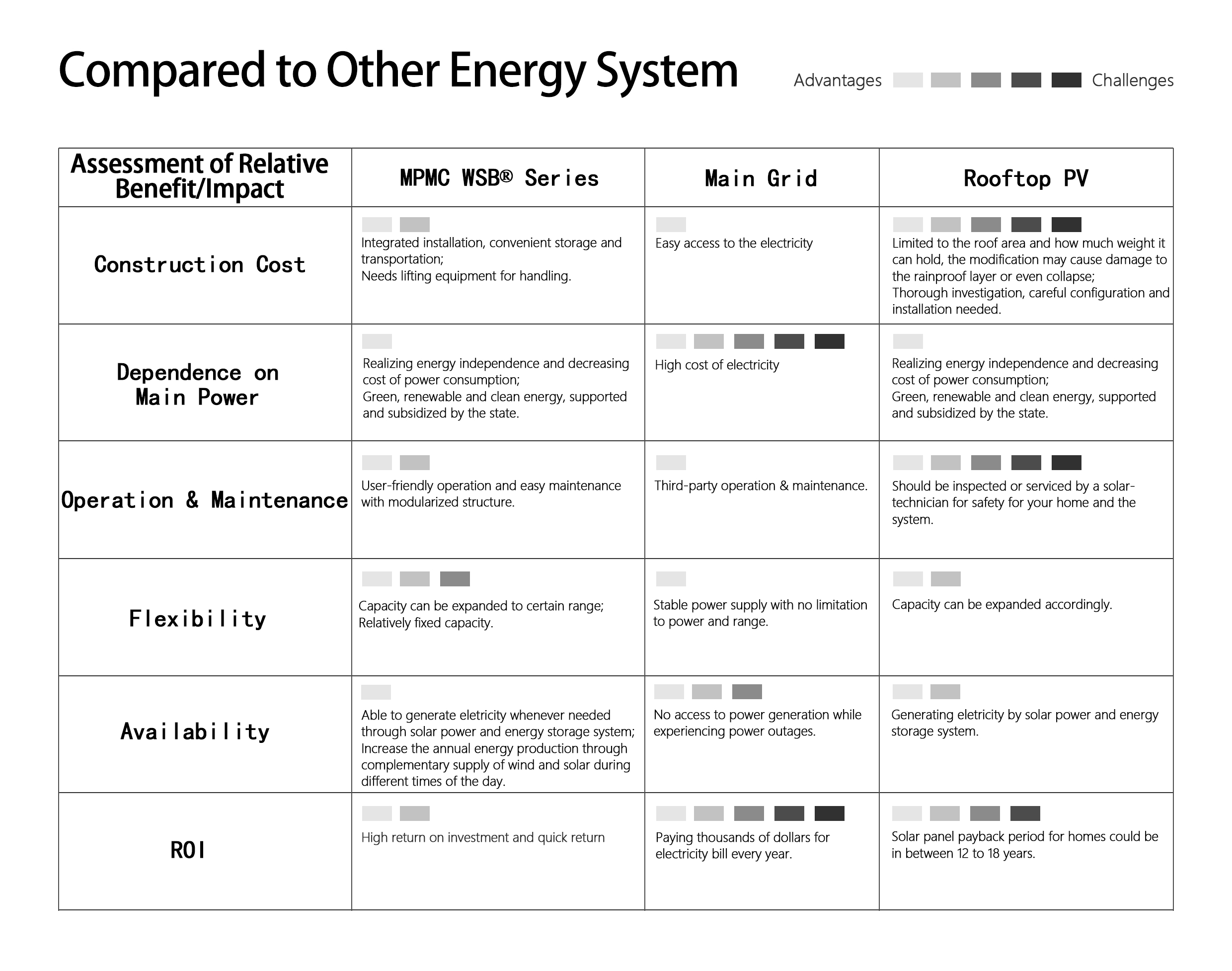 WSB
SB
Model


WSB-5/5-1
WSB-5/7.2-1
WSB-5/10-1
SB-5/5-1
SB-5/7.5-1
SB-5/10-1
Rated Power
KW
5
5
5
5
5
5
Maximum Output
kWh
7.16
7.16
10.74
7.16
7.16

10.74

Rated Voltage
Vac
230Vac
230Vac
230Vac
230Vac
230Vac
230Vac
Phase
/
1P
1P
1P
1P
1P
1P
Frequency
Hz
50
50
50
50
50
50
Power Factor
/
1.0
1.0
1.0
1.0
1.0
1.0
Expand Dimension
mm
3350*6800*3820
5420*6800*3820

5420*6800*3820

3350*2500*3820
5420*2500*3820
5420*2250*1820
Loading Dimension
mm
1150*2250*1250
1150*2250*1380

1150*2250*1380

1150*2430*1250
1150*2430*1380

1150*2430*1380

Weight
kg
900
980
1022

780
860
900
IP Grade
/
IP55
IP55
IP55
IP55
IP55
IP55
Operating Environment
℃
-15~50
-15~50
Transportation
Hanger and Forklifts
Hanger and Forklifts
| | | | | |
| --- | --- | --- | --- | --- |
| Model | | SPP455DHJH | SPP415DH7H | TSM-DE18 500 |
| Total Power | W | 1365 | 2075 | 2500 |
| Rated Voltage | VDC | 131.1 | 185.5 | 159 |
| Rated Current | A | 10.42 | 8.38 | 17.45 |
| Daily Output | kWh | 5.46 | 8.3 | 10 |
| Specification | W | 455 | 415 | 500 |
| Light Duration | h | 4 | 4 | 4 |
| Quantity | pcs | 3 | 5 | 5 |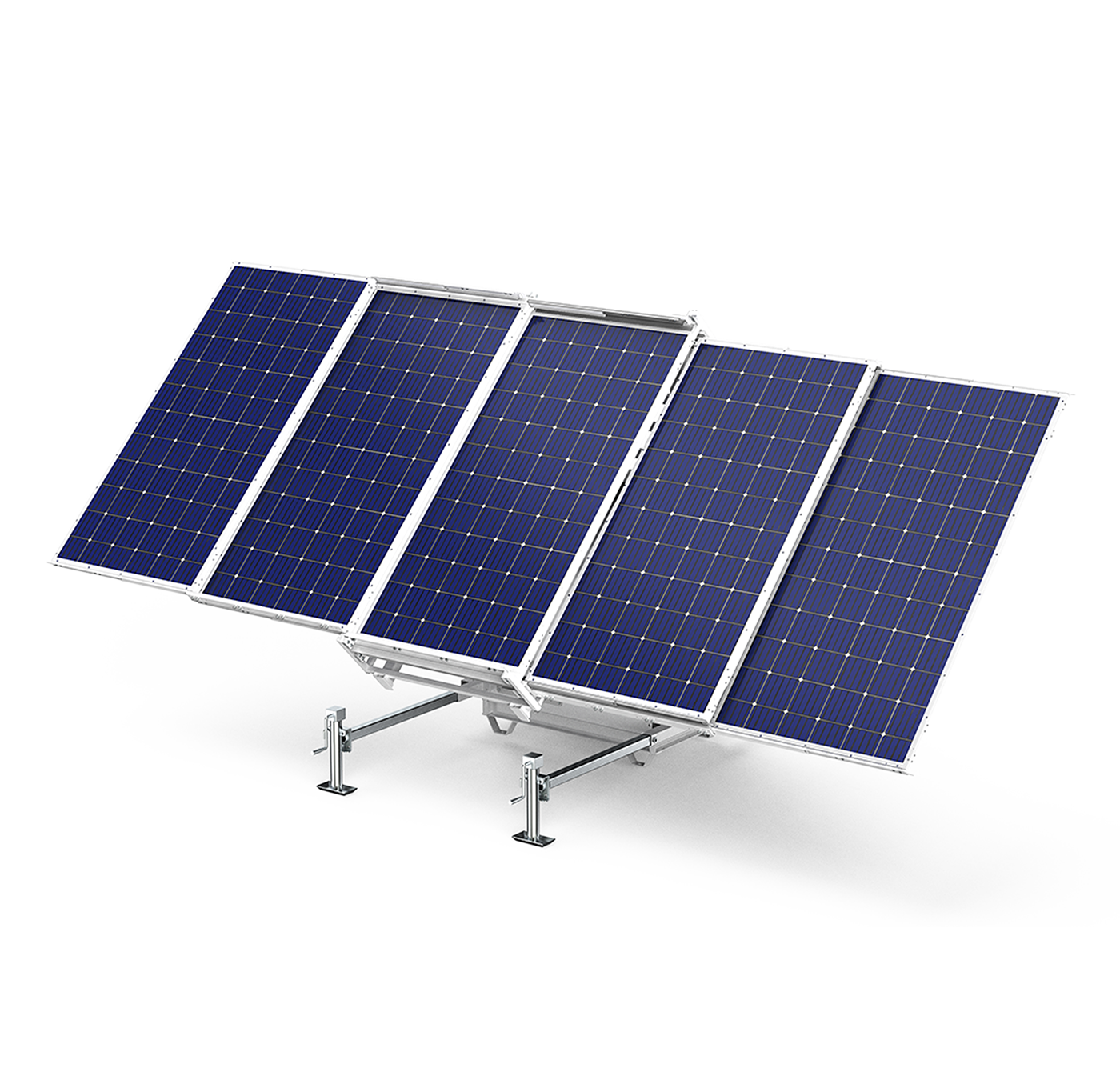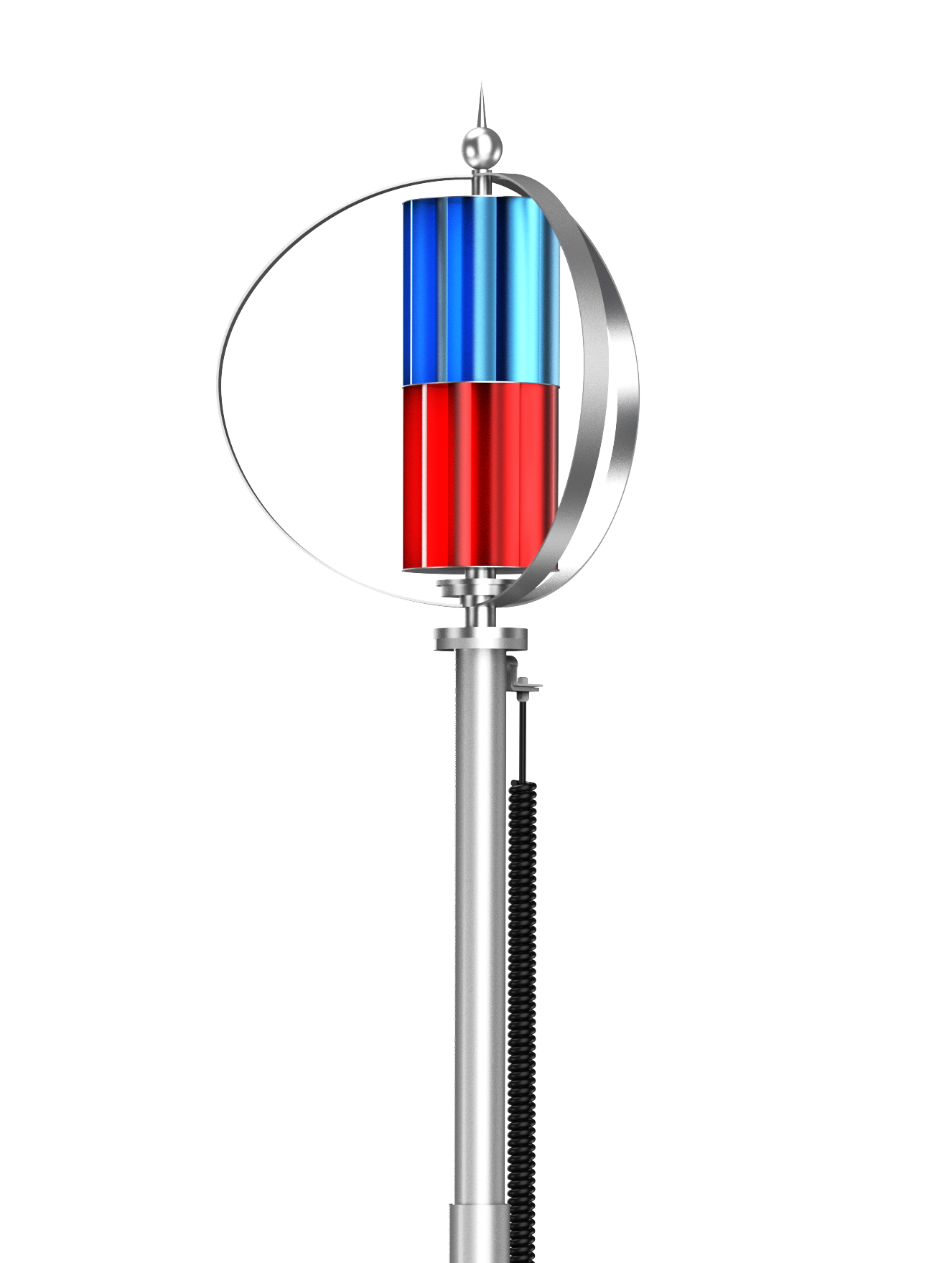 | | | |
| --- | --- | --- |
| Model | | XTL-400Q1 |
| Rated Power | W | 400 |
| Rated Voltage | V | 48 |
| Start-up Wind Speed | m/s | 2 |
| Rated Wind Speed | m/s | 10 |
| Safe Wind Speed | m/s | 45 |
| Rotor Diameter | m | 1.1 |
| Blade Material | | Alluminium |
| Generator Type | | PMG |
| Control System | | Electromagnetic |
| Wind Direction Adjustment | | Automatic Windward Angle |
| Quantity | pcs | 1 |
| | | | | |
| --- | --- | --- | --- | --- |
| Model | | HSD4870 | HSD4870 | HSD4870 |
| Rated Capacity | kWh | 3.584 | 3.584 | 3.584 |
| Usable Capacity | kWh | 2.46 | 2.46 | 2.46 |
| Depth of Discharge | | 90% | 90% | 90% |
| Rated Voltage | VDC | 51.2V | 51.2V | 51.2V |
| Cycle life | h | 4000 | 4000 | 4000 |
| Charger/Discharger Current | A | 70 | 70 | 70 |
| Quantity | pcs | 2 | 2 | 3 |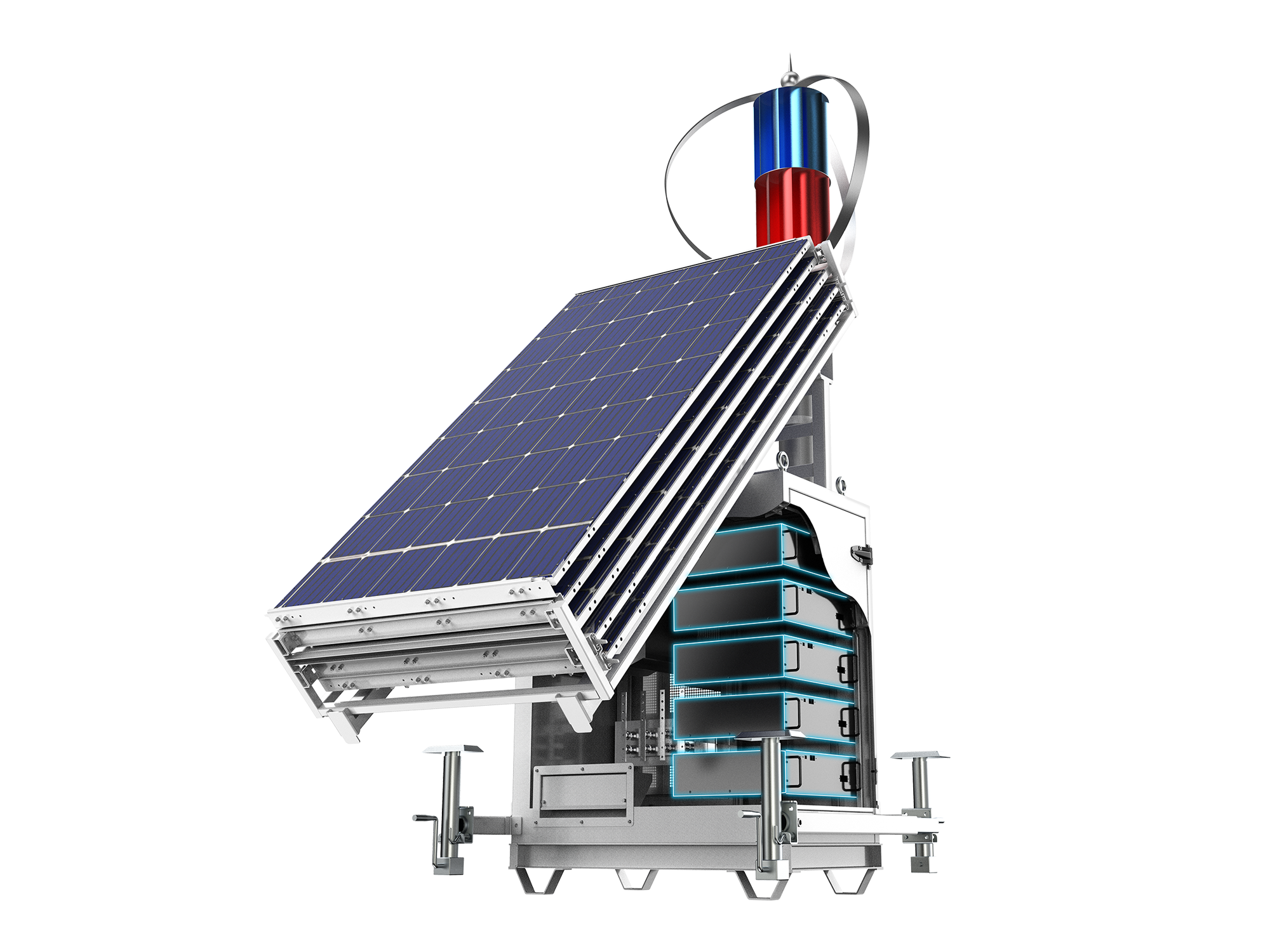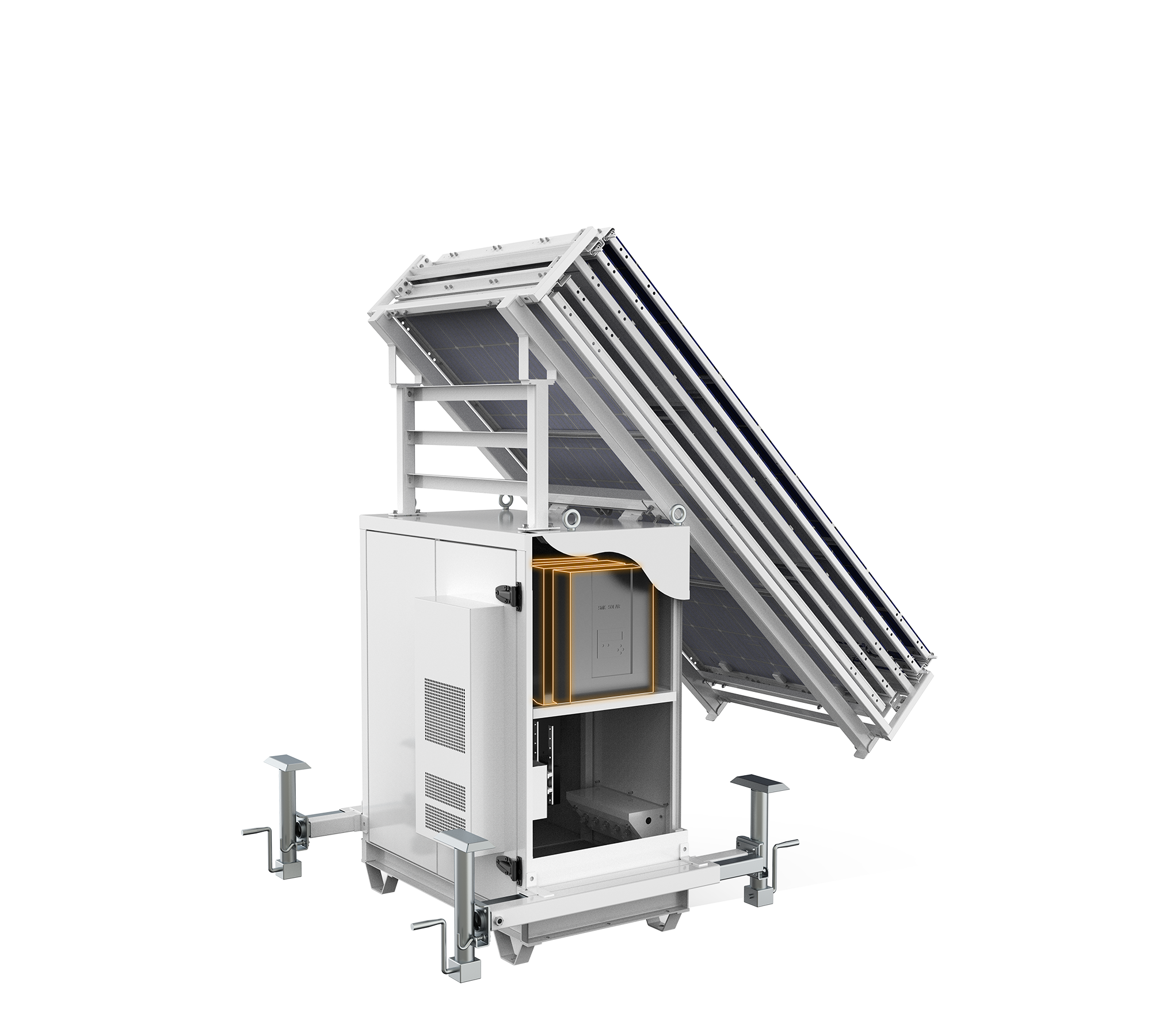 | | | | | |
| --- | --- | --- | --- | --- |
| Model | | VM II 5500-48 | VM II 5500-48 | VM II 5500-48 |
| Rated Output Power | KW | 5.5 | 5.5 | 5.5 |
| AC Input Voltage Range | Vac | 90~280 | 90~280 | 90~280 |
| Max Solar Charger Current | A | 100 | 100 | 100 |
| Max AC Charger Current | A | 80 | 80 | 80 |
| Efficiency | | 93.5% | 93.5% | 93.5% |